Guest blog by Nicole Butler | Board Certified Speech Pathologist & Founder and Director of Speech Within Reach
Specifically for children birth to 3 years of age. These suggestions are for everyone around the child including parents, nannies, grandparents, etc.
1.) WAIT & LISTEN
-Give the little one YOUR UNDIVIDED ATTENTION. Get face to face by sitting, squatting or lying near them.
-Caregivers can be eager to predict a child's needs, but it's important to give the child time to initiate an interaction or show a response to what you have said or done.
-WAIT. Look at the child, lean forward and stop talking. This demonstrates that you are ready for them. If you need help waiting you can count to 5 or 10.
-Fun fact: Waiting can also prevent or diminish stuttering in some children.
2.) IMMEDIATE REINFORCEMENT
-As soon as you get any sort of response whether it's sounds, words or gestures (e.g., "ga", "da", "pointing") give the child what they are requesting (if appropriate) as a reward, as well as REPEAT what they verbalize and/or gesture.
-It's ok if you don't understand it! It may be frustrating. The best thing to do at this point is to imitate their action and/ or sounds to show them what is on their mind is important to you.
3.) EVERYDAY ROUTINES = LEARNING OPPORTUNITIES
-Everyday routines such as diaper changes, bath time, and meal time are valuable learning times. Talk about what you are doing, where you are going, what you will do when you arrive, who you will see, etc.
-To encourage little ones to initiate in communication, place their favorite toys or objects out of reach or give choices such as "Do you want to wear a red or a orange shirt"?
4.) SPEAK IN SHORT SLOW PHRASES & LIMIT QUESTIONS
-We often talk quickly and with multiple sentences, which can be confusing when first learning to talk. Speak in 2-3 WORDS ONLY. Use baby talk only if needed to convey the message and when accompanied by the adult word. "Time for din-din."
-Ask a question, but not too often. Too many questions can lead to pressure children.
5.) READ WITH THE LITTLE ONE
Depending on the child's age "reading" is simply describing the pictures in a book without following the written words. Ask the child, "What's this?" and encourage naming and pointing to familiar objects in the book to increase language.
6.) BONUS ARTICULATION ADVICE
–Let the child hear your words pronounced clearly. While children are learning how to talk, repeat the word they are attempting – however, say it correctly. For example, if they point to the dog and say "dah", respond by saying dog several times.
–Treat their attempts as successes. No need to tell them that is not correct or ask them to say it again.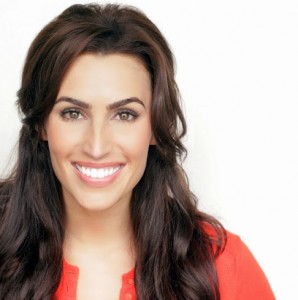 Nicole Butler, M.A., CCC-SLP/L is a board certified Speech-Language Pathologist, as well as the Founder and Director at Speech Within Reach in Los Angeles, CA who has been practicing since 2001. For more information on speech and language development, you can check out www.speechwithinreach.la.com