Guest Blog by Sharon Rief, of www.teacherresourcesforparents.com
The summer is the perfect time to enrich your kids of all ages and prepare them for the new school year while having fun at the same time. There are so many fantastic activities that we can do with them, but we often don't get to them because they are "difficult" to set up.
In this blog post, Sharon Rief from www.teacherresourcesforparents.com will share her tips on how to simplify your child's enrichment routine and get the most out of the summer:
A) Daily Enrichment Schedule Chart:
Kids need structure! In the summer, the lack of structure can make the days very difficult. If you follow a daily schedule you will notice immediately how much more fun and productive your days with your kids will be.
I love using pocket charts with sentence strips to display our daily routine.
For Example:
1) Morning Routine: (breakfast, brush teeth, bathroom)
2) Outdoor Enrichment: (throwing the ball, bubbles, using chalk)
3) Indoor Crafts
4) Lunch Time
5) Story Time
6) Nap Time
7) Hands On Enrichment Activities: Using play dough, pipe cleaners, Wikki Stix, flashcards, blocks, etc
8) Puzzle Time
9) Outdoor Enrichment Time (throwing the ball, bubbles, using chalk)
10) Night Time Routine (dinner, brush teeth, bathroom)
11) Story Time

B) Materials That You Need To Simplify Any Crafts Project This Summer:
1) Cookie Sheets: Because they have a hard surface, a lip so that things don't fall out, and are lightweight they are perfect as "busy trays" for activities you do at home and on the go.
2) Spill proof water cup: This type of cup has a very small hole in it reducing the chance of water spilling all over your child's "masterpiece".
3) Washable paint, old t-shirt, and thick paint brushes: Using washable paint and an old t-shirt your child is not afraid to get dirty giving him or her far more room for creativity.
4) A box of "extras" (sequence, jewels, buttons, glitter etc) to make every project more special.
4) Clear, stackable, sealable containers: Using these containers makes it so easy to set up an activity and clean up.
5) Disposable cloth or newspaper to cover the table and wipes and paper towels to clean up afterwards.
C) Materials That You Need For Teaching and Reviewing Concepts This Summer:
1) Pencil case: This should include essentials such as pencils, sharpener, eraser, and crayons for learning at home and on the go.
2) White board, marker, and eraser for writing numbers, letters, and words.
3) Clipboard with paper and pencil for doodling at home and on the go.
4) Pipe cleaners, playdough, and or Wikki Stix for forming numbers and letters.
5) Deck of cards to play Math War as well as flashcards (from the Dollar Tree)  to review basic concepts.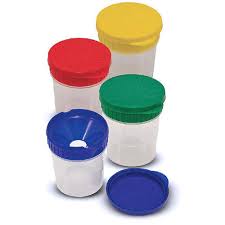 Start building your child enrichment binder today. To download this PDF as well as other fantastic enrichment activities go to Sharon's page at:
http://www.teacherspayteachers.com/Store/Creative-Lesson-Plans
or follow Sharon at:
www.facebook.com/teacherresourcesforparents.com